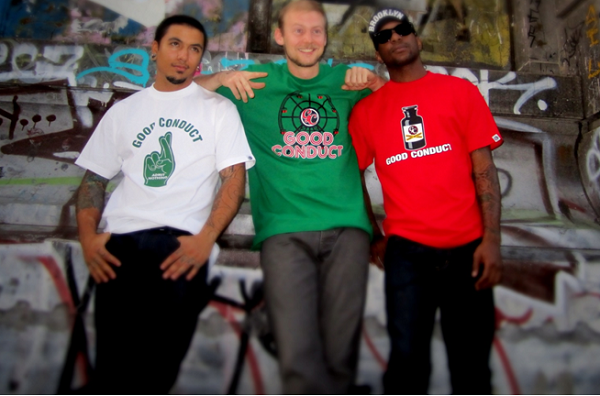 What is Good Conduct?
Skaters doing kickflips in an abandoned parking lot, rappers criticizing the government, graffiti artists tagging a decrepit brick wall. To some, these are examples of mischief and impending mayhem, but to others it is just Good Conduct.
Good Conduct is a streetwear label based in Bed-Stuy, Brooklyn. With clean designs that are straight up and unpretentious, Good Conduct strives to challenge the way society expects us to think and act.
Owner David Liew created the company in early 2009 as a way to escape the mundane 9-to-5 corporate culture. For him, sitting in a soul-sucking gray cubicle for 40 hours a week was not good conduct, so instead he decided to forge his own path and develop a clothing label that fills a void in the current streetwear market. In a genre currently saturated with over-hyped and over-styled clothing, Good Conduct comes through for those who appreciate clean lines and understand the need for a more simplistic approach to modern streetwear. Dedicated to crafting quality apparel, Good Conduct draws on the elements of street-culture to create a flavor all its own.
Good Conduct has a small staff that devotes its time to creating and producing high-quality goods. All of its T-shirts are made from 100% cotton. The company ships both domestically and internationally and each item is individually inspected before it's sent out.
More looks after the click.