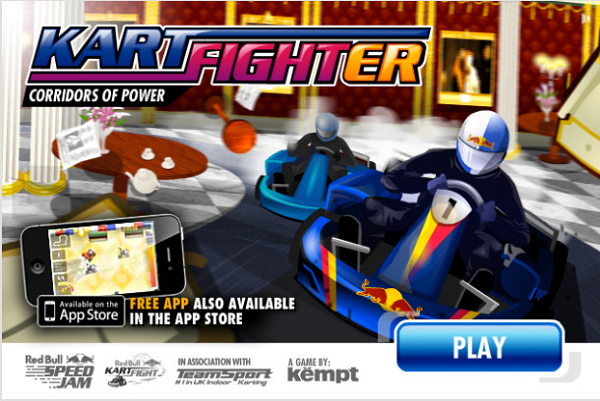 Red Bull presents Kart Fighter, a free game available now in web browsers and for the iPhone. This action-packed kart racing game gives users the chance to earn tickets to the Red Bull Speed Jam event via Red Bull's first on-pack promotion: entering a unique code found under the ring pull of special cans unlocks the game's Race for Tickets mode, a fastest-lap challenge in which users must beat a target time in order to qualify for the ticket draw.
The two versions of the game place a premium on ease of play backed up with a long-term challenge. The unique level design lets players race their kart inside the world's greatest landmarks, driving around palaces, through senates and power-sliding in parliament - the Corridors of Power echo to the sound of screaming engines!
The game features fifteen tracks in five global locations and three different kart leagues to unlock (each with their own performance and handling characteristics). In both versions players earn cash for completing races which can then be spent upgrading karts in the web game's Garage. In addition, any ring pull redeemed through either version gives the player 1,000 credits to spend in the game with a 3,000 credit bonus for every 4th code.
The social side isn't neglected either thanks to each version's Challenge mode. In the iPhone game a race can be shared with a number of friends taking turns on the same device – perfect for the pub. Meanwhile the web version takes advantage of Facebook and Twitter to bring friends into the party and see who can set the fastest time.
Play the web game here:
http://redbull.co.uk/kartfighter
Find the iPhone game on the App Store:
http://itunes.apple.com/gb/app/red-bull-kart-fighter/id443752900?mt=8